Sakura's temper has often been linked to her being this "horrible demon bitch" who cares for no one but sasuke and herself -____-  and again I'm here to tell you guys just how wrong the people who believe that are and to inform you (Sakura Fans) how to disprove this theory.
Sakura Haruno can be described as many things "Bitch" is not one of them.
She is a caring girl, she cares for her teammates. We all know she cares for Sasuke, but she's shown how much she cares for naruto too.
Sakura's kindness to Naruto
Sakura even in part 1 was conscious of naruto and how he was feeling, she also wanted to cheer him up.
Not wanting to see his dream get crushed.
Here we see sakura with Kakashi as they exchanged glances showing how they believe in Naruto even when everyone else doubts him.
Wanting him to prove to everyone how great he is.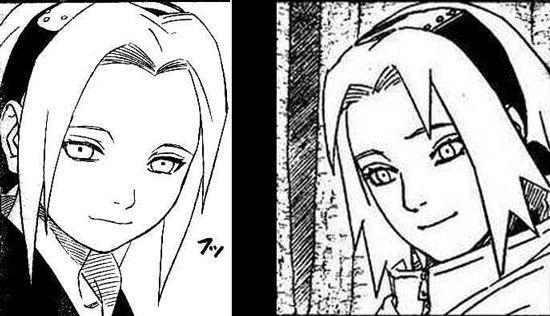 Sakura giving Naruto loving/caring smiles while he's not looking.
Sakura's caring heart, tightens at the thought of Naruto's pain and suffering.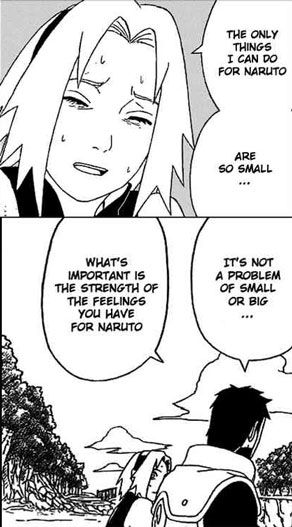 She wants to help him, but always feels like she can't help enough
Again she shows her caring side for naruto.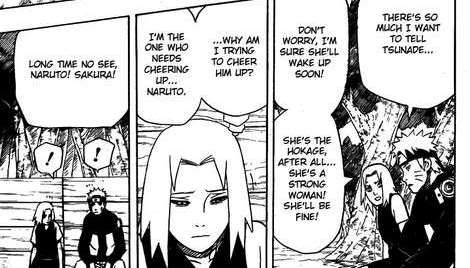 Kishi planned this scene to show readers that Sakura is taking priority in Naruto's feelings instead of her own, and that she's doing unconsciously. She's questioning her own actions, feeling confused on why is she trying to help him when she feels really bad herself. She needs cheering up just as much as him, Tsunade is her sensei and a type of mother figure to her.
Sakura's kindness to Shinobi and Civilians
she heals anyone who needs it, whether she knows them or not.
She is willing to put herself in danger for others
Saves the village from one of pain's summons and then heals the little girl, making sure she is ok
Takes a sword to the abdomen for Chiyo and then insists that she takes the last antidote, knowing full well that she is now poisoned and would die without the antidote
Tries to stop Naruto, wishing to take his burden from him.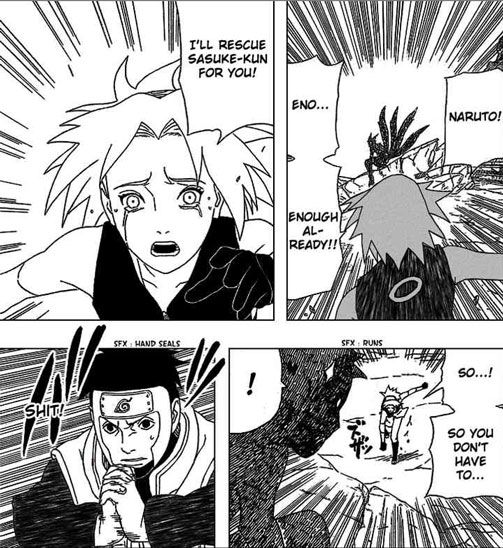 and then of course there are moments of kindness towards complete strangers
giving candy to the young girl who was begging
allowing the two unknown shinobi to be heal even if it risked her safety.
"Sakura punches Naruto, she's a horrible bitch"
Ok, I understand where this is coming from and I wouldn't blame you
IF
we weren't shown that sakura's punches aren't that bad.  Now sakura is really strong. (
[link]
<<< this is an awesome mathematical formula to show sakura's true strength, it's amazing, go read it.) But sakura isn't using this monstrous strength on Naruto. You know what i'd be worried about? if they were like her other punches.
Or if the results of her punches were like Karui's

Sakura does punch Naruto, but it is never intended to seriously hurt him, it's more of a warning for him when he crosses a line like Kushina did (is Kushina an evil bitch? no)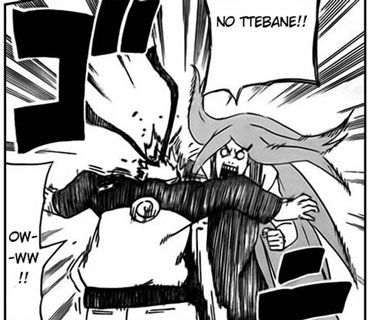 Let us not forget that they are ninjas, they can handle this kind of thing, they manage to still get back up and fight like it's nothing with much worse injuries.
Thank you for reading